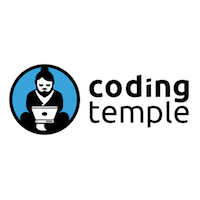 Chicago-based Coding Temple is place where one can find their niche in a short amount of time. Through an accelerated learning program, our institution provides eager applicants a chance to switch up their career and hit the ground running after completion of the program.
We offer Full-time Full-Stack .NET MVC and Part-time Full-Stack JavaScript courses.
This is the overall objective at Coding Temple: to build master programmers capable of performing at the highest level of coding at any number of employers we have at our fingertips through vast networking connections and allies. A coding novice is transformed into a Professional Jr. developer. No matter the skill level of an applicant, we're looking for all those who desire a shift in their life, a new path to blaze, talents to learn. So for those wanting to get that leg up and come into the main course tried and tested, the bootcamp provides the perfect avenue to gather the foundational basics needed to really excel at Coding Temple.
Our absolute, positively, number one goal is to provide students with all the skills and knowledge to not only land an entry-level web developer position, but for them to shine and standout among their peers.
Coding Temple offers a special discount for Bootcamps.in visitors. Please unlock it bellow
[sociallocker]
Use coupon code BOOTCAMPS.IN500OFF for $500 OFF tuition
[/sociallocker]
Coding Temple

General

Type

In class
Focus
Full-Time Full-Stack ASP..NET MVC
Part-Time Full-Stack Javascript


Started in

April 2015

Education

Length
10 weeks (Full time)
8 weeks (Part time)

Class size

8-10 people

Sessions per year

??

Dedication per week

40 Hours Full-Time
20 hours Part-Time

Minimum skill level

None
Placement test
Coding challenge
Yes

Prep work before classes start

Yes
30-40 hours of videos and
assignments to complete before
the first day of class.

Interview

Yes
Background interview + technical interview

Finances

Total Cost

$10,000 (Full time)
$7,000 (Part time)


Exclusive discount to Bootcamps.in visitors

YES
(unlock above)

Refund (if accepted job through program)

No

Financing / Scholarship

Payment Plan
Course Report Scholarship
Bootcamp.in Scholarship
Women in Tech Scholarship
College Student Scholarship


Deposit

$1000

Payments

Installment or 9-Month Payment Plan

Assistance

Job

Full Job assistance after completing the course

Housing

No

Student Visa

No

Contact

Email

info@codingtemple.com

Phone #

773-328-8471

Address

332 South Michigan Ave
City
Chicago, IL

Country

USA

Review

Full review of this coding school

Click here
Select up to 3 bootcamps to compare
them side-by-side